The Pleasantview Road Drop-Off Center
7363 South Pleasantview Road, east of Harbor Springs, Michigan
Drop-off Your:
Recyclables

28 day-to-day recyclables, as well as
30 unusual items which we accept only at this facility

Compostables

food scraps and
yard waste

Waste (to be buried in the GFL landfill south of Onaway)

ordinary household garbage
commercial/industrial
construction and demolition
For Sale
Compost
Home Composting Bins
Mulch and Wood Chips
Hours
Weekdays: 8 a.m. to 4 p.m.
Saturday: 8 a.m. to 3 p.m.
Sunday: CLOSED
We are closed only on Sundays and the following holidays:
New Year's Day
Memorial Day
Independence Day
Labor Day
Thanksgiving
Christmas Day
Location
7363 South Pleasantview Road
Little Traverse Township, Emmet County, Michigan USA
Mailing Address
7363 South Pleasantview Road
Harbor Springs Michigan, 49740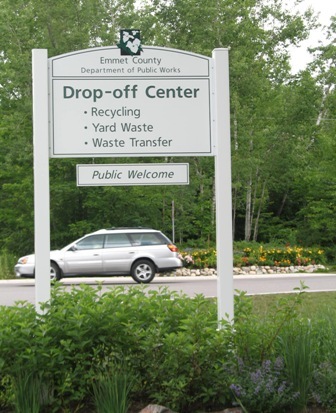 Truck Scale Service
Need to weigh a truck, trailer, or RV? We have a certified scale and will provide the service for just $10. Check in and pay at the Gatehouse. The attendant will explain the process.
Re: trucks with multiple trailers.
The fee is per weight ticket printed.
Our scale isn't long enough to weigh a train.