Mulch and Woodchips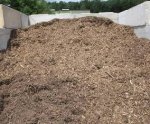 Load your own: $10 a cubic yard
We load* (open trucks only): $15 a cubic yard
Choose from

aged mulch made from hardwood and evergreen brush and logs, or
wood chips made from pallets and other untreated, unfinished lumber. This option is better used for paths where you don't want any plants to grow.
*While the Emmet County DPW staff people who load our products are trained and certified loader operators and have an excellent record, our loading service is offered "at your own risk." Emmet County will be not be responsible for any damage to vehicles.
How many yards do I need to apply for compost or mulch X inches thick?
How We Measure Truck Bed Yardage
Length x Width x Height divided by 27 (LxWxH)/27
An average truck bed is about 2 yards if filled, but not over the edge